Sorsogon National High School Class of '82 SORSOGON, SORSOGON, PHILIPPINES

"How sweet it is to be loved by you…" goes one line of a popular song.
But isn't it sweeter if the person who loves you and you love in return is one of your childhood friends, more so, your high school classmate?! This is quite cheesy but it's a reality that marriages between high school classmates (batch mates) are delightful romance stories told with giggles and childlike glow. (Sin-o baga man ngaya an mahuna na si kuwan nan si kuwan an magkakatuluyan! ) Their union is often blessed with special bonding brought about by teenage school memories that both of them are familiar with.
Our batch is fortunate enough to have our own "class" marriages. The beginnings of their relationships were actually not known when we were in high school (o baka secret lang talaga.. J) but blossomed when they got out of our school… away from the prying eyes of schoolmates. Their stories, however, are special to us because they all come from our own group… like everybody else, they went to different places and met different people but somehow, somewhere they re-traced their paths and chose to go back to the person that they know more … their high school classmates!
Edgar Echano & Susan Dichoso
Two kids from Bacon… nobody ever suspected in high school that they would end up together as husband and wife. Edgar was
everybody's friend in high school and appeared to be too engrossed in academics, CAT and of course, poetry to think about teenage romance. He was and IS a clean-cut, straightforward but down-to-earth type of guy who would rather spend afternoons with friends rather than chase girls. Susan, on the other hand, was and IS pretty and sweet with a set of friends whom she used to hang out with most of the time. Like Edgar, she's also very much into academics to be bothered by thoughts about boys at an early age. But college came and both of them entered Bicol University in Legazpi City and both took up civil engineering. After graduation in 1987, both were employed by Atlantic Gulf & Pacific Company of Manila, Inc (AG&P) in Batangas City. It was such a nice atmosphere (or was it destiny?) for two people who come from the same place and the same school to get to know each other more. Besides, it seemed that their paths were always together - from high school, to college, then to work! (Might as well make it forever, huh!?)J Nobody knows really when exactly their story started but yearly reunions later on would tell bits and pieces of rumors about them being together. We were however told by both of them that they were just "Mag-igso man sana."
Nonetheless, the "mag-igso" got married on March 20, 1991 at Saint John Bosco Church in Makati, Metro Manila. They are now blessed with three beautiful girls - Sherry Ellaine, born June 6, 1993; Sheila Eunice, born July 9, 1995 and Sheena Elle, born August 23, 2001. The Echanos are now settled in Los Angeles, California.
Antonio (Topet) Ayo, Jr. & Ma. Lina Nieva (Marlee) Casals
Nano?! Si Nieva nan si Antonio?! These were the astonished questions asked by former high school classmates and friends when they learned the news about Topet and Marlee getting married. It was newsflash (tsismis to the max !) to everybody and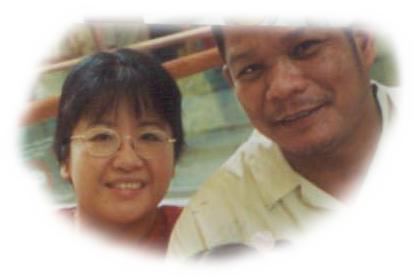 others cannot seem to believe what they were hearing. Well, for me it was quite surprising, indeed…. that it took them SEVENTEEN YEARS after graduating from high school to know that they are meant for each other. J Looking back in high school, Nieva, was the professor-type kind of student. Just looking at her, you would definitely conclude that she was (and is) a no-nonsense kind of girl. (If you cannot say something with sense, better not talk to her!) She was the mathematician and the scientist of our class; hence it went without saying that boys were kind of intimidated by her academic achievements. Antonio, on the other hand, was the silent type (man of few words!) with a charming (or is it mischievous?) smile for everybody. But the whole class knew that underneath that quiet personality were (and are) wit and intelligence (and math excellence, too!) But classmates and friends did not start any "matching" ideas between the two of them so high school went and the two graduated as "just" classmates. Anyhow, I do believe that even during those times, the two had mutual admiration and respect for each other's academic capabilities and intellect.
Fast forward, fifteen or sixteen (?) years later, the two would be re-united through Joseph (who has the detailed account of Antonio and Nieva's meeting and therefore became their wedding "ninong") and discovered what they had probably missed all those years - each other's love and company. J Hence, on December 20, 1999 Topet and Marlee sealed their promise "to have & to hold, for better or for worse" at Our Lady of Montseratt Abbey Church in Mendiola, Manila. Topet and Marlee, together with their daughter, Antoinette Mozelle (born on November 6, 2000) are based in Makati City, Metro Manila.
Class '82 has several partnerships more that we know of, to name, Julian Gerona, Jr. and Sarah Dayto (they have six kids already!) and William Erlano and Leonor Leni Dorol. Their stories will be posted here as soon as we get all the details.
Paging all class members who know of other partnerships from our batch. Please let us know and share their stories to other members. (We would love to know, too!) E-mail any information to Arlene at snhs82@aol.com.